CIQGM732 Strategic Supply Chain And L...
CIQGM732 Strategic Supply Chain and Logistics Management of Flysafe Assessment Answer
Answer
STRATEGIC SUPPLY CHAIN AND LOGISTICS MANAGEMENT
Introduction
Dubai is the capital city of the Emirates of Dubai and is considered to be the wealthiest city amongst all other seven emirates that together constitute the United Arab Emirates. Flysafe airline has very poor supply chain management and unplanned stock management-led Flysafe to have unnecessary stocks that got outdated and led to a great loss of the company. Also, the outsourcing of the food section was outsourced to a vendor which raised questions from customers about the timely delivery as well as the quality of food by the customers. An analysis is done on the basis of the above factors to identify the problems along with possible ways to overcome the situation so that Flysafe can come out of their critical situation and continue to sustain their business.
Assignment Task 1
a) Addressing awareness of the current issues
i. Supply chain management
Supply chain management is to manage the business processes that deal with the flow of product by converting the raw materials to finished products until the final product is ready to reach the customers. It consists of the entire chain of activities and one might or might not be connected to each other. For example, the procurement, the sourcing, handling of materials, the transformation, the logistics involvement and the collaboration and the interconnectivity between all the channel partners who are involved in the entire process (Businessjargons, 2020).
Figure 1: supply chain management
(Source: Businessjargons, 2020)
ii. How supply chain management can add value to Flysafe
The prime factors that lead good supply chain management are to improve the relationship with the vendors and maintain the consistency of it and also have a constant check on the cost of the logistics involved starting from sourcing till the product is delivered to the customer's destination.
The company needs to decide which area need single sourcing and which division needs multiple sourcing. In order to add value to supply chain management. Sara can consider the following methods do decide:
Benchmarking: In this process, Sara has to assess the customer's requirements and forecast the capacity management, do a thorough study of the demand patterns of the customer and complete analysis of the actual requirement of space needed for hangers, logistics and for the maintenance of the engines.

Logistics Cost: The cost of logistics can be controlled by having multiple suppliers which will lead to competition between them resulting in procuring materials at a lower cost. Single sourcing can be kept where the products which are of not most critical while supply of critical items would need multiple sourcing

Managing Material Request Cycle: This includes the study of the number of days needed to fulfil the placed order, estimate the delays that may come across during processing to meet the order fulfilment and the priority levels of the materials ordered. The SCM tool can be used by Sara to manage the complete lifecycle.

Inventory Analysis: The analysis of inventory is very important and determines the stock accuracy, item quality available in stock and its financial value. Since overstocking or less stocking can be fatal. Overstocking will lead to an unnecessary investment of the company and may lead to damage of the stocks leading to huge financial impact which happened in the case of Flysafe, while less stock may create unavailability of most sensitive and emergency items leading to delay in customer service and can also lead to financial losses with penalties. Hence, the historical record of stocks can also be used by Sara for her analysis

(Kreyonsystems, 2020)

.

Vendor Relationship: A key matrix in logistics management is the relationship that exists with the vendors. A good and cordial relationship with all the vendors are very important but at the same time, Sara has to give priority to those suppliers who are competent in terms of supplying a quality product, the supplier needs to be reliable, they have innovations within and at the same time, the price of the products are competitive as well as provides good services which will lead to cater good customer service.
Proper and smooth connectivity in exchanging information, access to data as per relevancy and the ability of a supplier's ability to do action efficiently for timely delivery of the product (Alder, 2020).
iii Issues faced by supply chain management in the aviation sector
The aviation industry is facing a huge challenge and is not very stable in today's world especially due to high expectations of the customers and at the same time, very high competitions of air freight amongst the service providers. As per the Air Transport Association, since May 2018, the demand for air freight is at its highest level and is still on the increasing side (Aircargonews, 2020).
Few of the major supply chain challenges faced by the aviation sectors are mentioned below (Blumeglobal, 2020).
Increased Cost: Due to rising fuel price the road, sea and air transport are increasing

The Rising price of commodities is increasing the cost of raw materials used for making spare parts and is affecting the overall price of the finished product.

The labour cost of manufacturers and suppliers are increasing and are also contributing to raise the overall cost of supply chain

The protectionism and the political circumstances between all trade routes are resulting in additional fees and the formalities of customs processing's are delaying the process of delivery of spare parts.
The data below shows the challenges of supply chain management in the aviation sector (Financesonline, 2020).
Graph: Supply Chain Management Challenges
(Source: Financesonline, 2020)
The figure shows that challenges of the supply chain management in the aviation industry where only 21% of the service providers have good visibility, only 19.7% can understand customer's demand, 13.2% have control over their inventory management, and only 4% are good manufactures who care of their customers and meet the expectations
iv. Discuss using (PESTEL) how market factors have impacted the airline industry
A framework used by business houses to first analyse and then monitor the macro-environmental factors that impact a business. Those data are then used to identify all the weaknesses and the threats and are then used in SWOT analysis.
Political: In the case of Flysafe, the customers have claimed that fastest delivery was not possible in Dubai location. It is now important to understand whether it is the formalities of the customs clearance creating the delay or any other factor which needs to be resolved with the government involving the supplier (Businessteacher, 2020).
Economic: Economy of Dubai has a positive impact on the aviation sector as the country has good economic growth because of increasing market demand and reduce oil price
Socio Culture: Flysafe needs to do research on the behavioural issues of the customers by continuous feedback as the demands may change from time to time.
Technology: Technology is one of the main concerns of Flysafe use robust technology so that there are proper and real-time communications between inter departments and the real-time information or any changes should also reflect and get updated at all the suppliers and keeping the data security. With the advancement of technology, like the Boeing, has helped 15% reduction in carbon emission (Businessteacher, 2020).
Environmental: Bad weather conditions like hurricanes, extreme temperatures and snowstorms impact this industry and the emission of carbon may impact the environment in turn. Hence, proper maintenance is highly important.
Legal: Government regulations imposing new rules in Dubai can be a challenge of Flysafe. Hence, keeping constant touch with the government is very important.
The above table shows the impact of 3.08% of the inflation rate and the Anti-discrimination law for Emirates Airlines.
b) Procurement strategy importance
i. Explain the importance of the various user departments and their contribution to the procurement/supply chain using Porter's Value Chain (500)
i. Using Porter's Value chain, explain the importance of different types of user departments and their contribution to the procurement / supply chain.
Porter's Value Chain mainly focuses on how outputs, that is the products that are purchased by customers control the change in the inputs. This consists of the interconnectivity of different types of activities. The activities are of two types:
Primary Activities

Support Activities
The figure below shows the Primary Activities v/s Support activities as below:
Primary Activities:
There are various departments involved in the entire process of Flysafe's operation and each department has direct or indirect connectivity with the supply chain that will contribute to the success of supply chain management.
Inbound Logistics: This is the purchasing department which is concerned with the entire process that involves receiving different types of items, storing them and internally distributing them to different departments as per requirements. The purchasing department needs to be well connected with the requirements from other internal departments and be aware of the orders placed to its suppliers and maintain proper communication to avoid any kind of delays

(Mindtools, 2020)

.

Operations Department: This department is involved in doing the activities that help to give outputs that the consumer needs from the inputs given to it

Outbound Logistics: This is the department that can be either owned by the company or can be a third party. The department is responsible for delivering the finished product or services to the customer's destination like the distribution system, the collection or the storage process.

Marketing and Sales: This department helps the company to procure new buyers and convenience them to use the company's products or services.

Service: This activity comes into the picture after the product is delivered or the services have been provided and the technique is used to maintain the value of the product or the services that have been delivered to the customers.
Support Activities:
Support activities are used to support the functions of primary activities. As an example, the procurement department provides support to the operations department by procuring items needed by the operations department and supplies them as per recruitment and at the same time, the procurement department procures items needed by the marketing department and supplies them their requirements as per their need.
Procuring Department: This department is engaged in collecting various requirements from internal departments and is engaged in looking for various suppliers and negotiate with them

Human Resource Management: This department engages themselves in all kinds of recruiting and hiring, training along with motivating employees and rewarding and recognising them

Technological Development: This department helps all other departments to manage their work efficiently with modern tools and communicate internally with each other and share data internally and externally with the suppliers and maintain the company's data security. Also, help the company to stay updated with technological advancement and create technical excellence.

Infrastructure: This is the basic support system which helps every department to function their day to day operations.
ii. How finance and engineering can support the procurement team at Flysafe and vice versa
The Engineering Department: In the case of Flysafe the company was lacking in engineering and technology. The department needs to evaluate the technical requirements of all departments that will help to enhance the up-gradation of the interconnectivity between all the internal departments along with secured access rights. Apart from internal communication, the department must also engage in technical enhancement that will smoothen the connectivity and communications between the company and all the suppliers. This will help the procurement team to communicate real-time and share knowledge and data with the suppliers and keep them updated. Apart from the implementation of new technology, the departments also keep in mind the security and misuse of any data.
Finance Department: The finance department must coordinate with the procurement department and evaluate the expenses for technology up-gradation for getting the best prices from suppliers and then release funds accordingly.
c) Best leadership skill and leadership attributes that suit Sara
For Flysafe, Sara needs to adopt the Democratic style of leadership. In this kind of leadership, the leader is not the "Do as I say" type of leader which is present in the Autocratic style of leadership. In Democratic style of leadership, the leader shares information with the team members and takes suggestions from them, however, the final decision is taken by the leader itself. This type of leader believes in strength within all, extracts the best from the right person and accordingly uses the employee's strength to get the best results and get the job done (Americanexpress, 2020).
Attributes:
Distribution of responsibilities: The manager identifies strength and weaknesses and distributes the right job to the right person which will create word efficiency(Study, 2020).
Empowering group members: Implement skill development so that respective departments can work efficiently on their own role and get the job done
Group decision making process: This will help the Flysafe team (the subject matter experts along with Sara) to be at par with knowledge in terms of sharing and the motive of the team's mission so that right decision can be taken.
d. Outsourcing Strategy
I. Definition: It is a practice of getting a particular work done with certain responsibilities by an external party who has the complete expertise in that particular field or domain. However, in this deal, the cost-effectiveness is also very important that needs to be taken care of. Companies mainly outsource so that the subject matter experts can provide the service on behalf of the main company maintaining quality as per prescribed standard (Medium, 2020).
ii.Contract Management: It is a Contract Lifecycle Management that can be between a company and a vendor, between partners, with customers or employees of an organization. This covers the entire lifecycle that covers or contains the entire process and the flow of the service between the two partners (Apttus, 2020).
Iii. Virginia Airlines in 2010 have outsourced there to Navitaire dealing with booking over the internet, the reservation, the checking as well as the boarding system. Because of a sudden crash of their application twice in three months let the entire system collapse (Garland, 2020).
Iv. One of the major causes of the failure of the outsourcing was there was no monitoring system from the Virgin Airline. The Virgin Airline could have appointed an expert and posted at the vendor's location 24x7 to monitor Virgin Airline's account and also incur a penalty on the losses of the company
v. On reviewing the contract with the present outsourced company, it was found that the current agreement does not contain any strict point of what will happen if the SLA is not met by the vendor. On further review, it was noted that there were also no penalty charges mentioned in the failure of the agreed terms and conditions.
Reason:
Incurring penalty to the vendor will make them more sincere about the SLA and maintain time-bound supply along with the quality of food.

Setting up a dedicated department who will constantly be in touch with the outsourced vendors to monitor so that quality is maintained and in time delivery is done.
Assignment Task 2
a) Supplier relationship plan
Defining suppliers' relationship plan
Suppliers' relationship plan is based on the strategic planning method to enhance interactions with third-party organizations for managing goods as well as developing business values depending on those types of interactions. As per the views of Li et al., (2017), until or unless effective suppliers' relationship has been developed, a company may feel issues based on weak customers' satisfaction and tough competitive environment. Hence, the need for developing a suppliers' relationship plan becomes essential for VP Sara.
Benefits of suppliers' relationship plan for Flysafe and other companies
Development of suppliers' relationship becomes beneficial for Fly safe and other third party organizations which are mentioned in concerned case. Firstly, this plan is helpful for Flysafe to know their suppliers' demands and encourage them to perform business functions in an effective way. On contrary to this, other organizations such as Super Turbines and North Star Aircraft limited can be benefitted by understanding their main responsibilities through this plan. In addition to this, proper management Outsourced catering contracts by Food for the Skies can be managed in an effective way as the suppliers' relationship plan highlights their key responsibilities. The following table has involved detailing of the plan.
| | | | | |
| --- | --- | --- | --- | --- |
| Key suppliers | Interest for organization | Level of importance | Key strategies for developing relationships | Key strategies for developing suppliers' efficiency |
| SuperTurbines | Supply materials for engine repairing and providing technical support | High | Maintenance of continuity in managing material request cycle | Routine interactions with the suppliers that can be effective for a locally based freight forwarder |
| North Star Aircraft limited | The landing of gear spares and other power plant supplies | Medium | Maintenance of continuity in managing material request cycle | Applying proper vendor management strategies which can be beneficial for resolving operational challenges associated with defective spares of OEM |
| Food for the Skies | Supplying foods to customers onboarding | High | The benchmarking method can be helpful in this respect to meet customers' requirements with the help of stable suppliers' relationships | Incorporation of developed IT systems such as robotics which becomes helpful to support suppliers' performance for satisfying customers' demands |
Table 1: Suppliers' relationship plan
(Source: Developed by author)
Based on the above table, it can be mentioned that the operational management of Flysafe becomes prominently benefitted by enhancing their suppliers' performance levels. It has been observed that currently, the company is facing critical inventory and vendor management issues due to poor suppliers' maintenance system. In the thoughts of Arnold (2017), development of business sustainability is directly dependent on the smoothness of suppliers' interactions and their contributions for improving the mode of customers' service. Thus, it is strongly required for this company to maintain its suppliers' relationships in a sustainable manner. The fact comes to light that vendor cooperation is not in a good condition in this company and Sara needs to develop their IT platforms; so that it becomes easier for the operational departments to implement an integrated chain into their business process management. It can also be effective for them to develop financial performance level.
b) Recommending a software application that can be helpful for Flysafe
Maintenance of supply chain functions and development of coordination among inventory management activities are totally based on the effectiveness of the information sharing process. In the views of Sandkuhl and Stirna (2018), in this era of business digitization, it is necessary for a company to enhance business connectivity by introducing effective software system. Similarly, the operational management of Flysafe can introduce coordination in supply chain activities and fostering business growth in satisfied customers' environment. It can be highlighted that the management can incorporate E2open supply chain software which may help them to maintain efficiency in supply chain functions and procure necessary materials for enhancing inventory management system in Flysafe. E2Open is an online supply chain management system that has been designed for providing more responsive and demand-driven supply chain (Pat Research, 2020). The feature of this software includes supply activities monitoring, planning as well as supervising inventory activities and order processing.
Application of this software system in supply chain management of this company can be helpful for managing procurement from different suppliers such as North Star Aircraft limited and review the process of the turnaround of rotating spares for better warehousing. As opined by Kim and Chai (2017), inventory management, warehouse management as well as logistics and outsourcing activities are integral parts of the supply chain process in an organization. The E2open software will bring revolution in this aspect in favour of Flysafe. In addition to this, it can be mentioned that this software has the feature of presenting customizable data and provide in-depth in-transit information to the platform with which it has been connected. It can be assumed that it will be helpful for Flysafe to record every key data based on their supply chain functions and analyze order requests based on air freight to accommodate Aircraft on Ground status. Thus, it becomes prominently clear that use of this software system will be critically effective to enhance supply chain management efficiency of Flysafe through developed maintenance of suppliers' relationships.
It has been found that the supply chain management of the airline industry in Dubai is focused to control their activities with the implementation of different types of software. For example, it can be highlighted that using automated planning software becomes helpful for them to detect whether the supply chain activities are helpful to meet business objectives or not. Apart from this, the supply chain integration system has been used by a number of suppliers of the Dubai airline industry for making the authority sure about their efficiency in meeting operational demands of the organization. Similarly, the involvement of the developed software system will be helpful for the management of Flysafe to uplift their business integration as well as support the main functions of inventory and logistics management in a genuine way.
Figure 1: Effectiveness of using updates software in the airline industry
(Source: eBOS Technologies, 2020)
Considering all of the benefits of updated modern software on supply chain management, it becomes prominent that until or unless the operational authority decides to engage E2Open in supply chain procedure; the ways for overcoming the inventory and logistics issues can be difficult for Flysafe.
c) Key considerations and challenges for implementing the software
In terms of adopting this modern and developed software into supply chain management process, some factors need to be considered such as level of affordability that is the probable budget needed to implement this, analysis of internal capabilities of the firm and reviewing organizational culture to assess whether Flysafe will be able to manage supply chain growth with this software system. As explained by Tidd and Bessant (2018), internal instability within a firm may hamper effectiveness in terms of bringing sustainable changes in the business process. The following part sheds light on the factors which are essential to be considered by business departments of Flysafe to adopt modern software system to manage supply chain activities.
Factors need to be considered before implementation
In order to apply this software system into the business process, it is necessary to analyze whether this company can afford the cost of maintenance for applying E2open software. From the business case study, it has been observed that currently, this company has started to gain an additional amount of profit from their airlines services. Thus, they can be quite able to afford the cost of maintenance.
Core competencies of Flysafe
Core competency-based on employees' efficiency and net operating income level needs to be analyzed before applying this digital software into the supply chain management process. As opined by Wang et al. (2018), weak internal structure or effective managerial performance level affect core competency level of business. Hence, it must be analyzed.
Firm culture needs to be reviewed before applying this modern software. In addition to this, it is also essential to have an idea regarding the employees' intentions to accept the involvement of modern software tools for creating coordination between supply chain functions.
Compatibility with the change process
It is essential for the operational management of Flysafe to evaluate if their business structure is compatible with the change process. From the case study, it has been observed that supply chain is not so developed in this company and the IT system is not effective enough to support suppliers' relationships. In such a situation, it can be assumed that this software implementation process can be helpful for managing all of the supply chain activities within the minimum required time.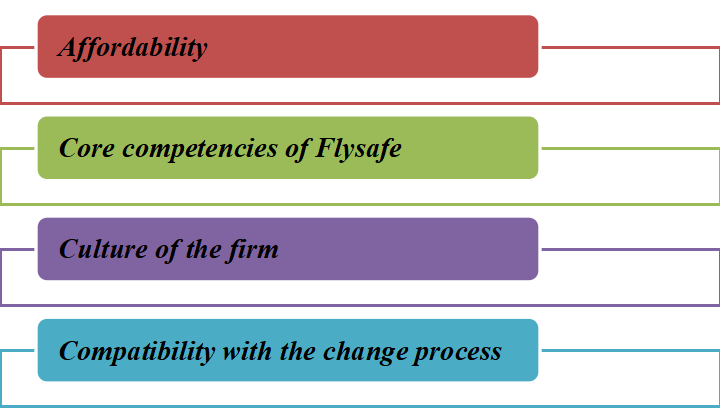 Figure 2: Factors essential for applying the developed software system in Flysafe
(Source: Developed by author)
Anticipated challenges before and at the start of its operation
It is an obvious fact that the application of any kind of change process in business may have some critical challenges. In this respect, it can be assumed that employee resistance can be a prominent barrier before implementing a modern software system in Flysafe. Thus, staff competency needs to be considered prior to implementation (Heidary Dahooie et al. 2018). Along with this, the absence of effective training to staff and shortage of budget can be other challenges that may hamper operational change process inn Flysafe. Thus, it can be mentioned that proper management of vendor and supply chain along with logistics can be prevented due to anticipated challenges in an operational system.
Assignment Task 4
a) Realistic assumptions of the result and possible solutions
Assumptions based on financial result
By analyzing the results of financial performance, critical reflections can be developed based on the reasons for such kind of trends (Refer to appendix). The following table has included these assumptions in a nutshell-
| | |
| --- | --- |
| Financial aspects | Reasons |
| Profit margin | It has been observed that the profit margin for the company has been increased in 2017. Thus, it can be mentioned that their customers' satisfaction rate has been increased and they have become able to increase the amount of gross revenue. |
| Profitability | Reduction of profitability year after year denotes that there is a chance of having less amount of return on investment. As a result of this, the company can be non-profitable in market. |
| Return on Assets | Decreasing the amount of return on assets means the Flysafe can be in trouble. Over investment in a particular business, functions fail to meet their revenue objectives. |
| Current ratio | It can be assumed that the decreasing rate of current ratio may highlight the risk of paying a high amount of interest along with poor account receivables. |
| Acid or Quick Ratio | From the decreasing rate of acid or quick ratio, it can be expected that Flysafe needs to struggle more for growing sales, paying their bills and collecting receivables slowly or in an over-leveraged condition. |
| Stock turnover | The reducing rate of stock turnover denotes that there is a risk of holding inventory by the authority longer than expected time schedule. Hence, it can be mentioned that the authority of Flysafe holds its inventory for a longer time span before selling. |
| Gearing Ratio | The high volume of the geared ratio indicates that most of the amount of cash flow is consumed by high-interest rates. |
Table 2: Reflecting on the reasons for varied financial performance levels
(Source: Developed by author)
Recommendations for solving this constraint
In order to solve these types of supply chain exposure, the management of Fly safe can follow these ways in a genuine manner.
Daily basis calculations of financial expenditure
It can be helpful for the management of Flysafe to have an idea regarding the ways of their main business expenditure. Along with this, it will help to increase the profit amount in a sustainable way.
Reviewing and preparing budget list frequently
It will be advantageous in terms of reducing unnecessary cash flow and allocating budget for each of the supply chain activities in an effective manner.
Reducing the time of inventory management
It is obvious that if a company takes a long time to manage inventory functions, it will cost huge money for supply chain activities (Supplychainquarterly, 2020). Hence, it can be recommended that reducing the time of inventory management will develop operational efficiency of the company and it ultimately leads to manage financial strengths.
Reduction in unnecessary cash flow
The financial management of Flysafe can consider their budget list for managing a number of supply chain functions such as warehouse management, customers' requirements as well as logistics and suppliers' sourcing. It will help them to increase return on investment amount in a critical way.
b) Long terms impact of current financial standings
Current financial situations of FFTK may have prominent impacts on developing suppliers' relationship in future and even current conditions of Flysafe. The probable consequences are as highlighted below-
Loss of business reputation
Loss of financial stability will affect the business reputation of Flysafe as they may be unable to meet customers' requirements. In the thoughts of Baily et al. (2017), loss of financial stability in the business process may hamper organizational efficiency to meet customers' demands. This is not an exception for FFTK which may lead to making their business image fade in the market.
Loss of customers' satisfaction rate based on the weak customer service method
Loss of business reputation will obviously affect the customers' attraction rate in a negative manner. As a result of this, most of the travellers will move to choose that company where they will get healthy service by spending a minimum amount of money.
Weakening employees' efficiency levels
Loss in earning amount will impact on employees' willingness in FFTK as well as in Flysafe. In this respect, it can be mentioned that an inadequate amount of profit will affect employees' salaries, thus they will be de-motivated to give their best in the business process.
Facing prominent troubles in a competitive environment
In the result of the above-mentioned consequences, it can be stated that the company may face a strong competitive environment in future due to inefficient financial management process. Hence, in future, it may turn into reducing employees' numbers or decreasing business channels to adjust with the amount of loss.
Figure 3: Possible consequences for weak financial performance level
(Source: Developed by author)
c) Tendering and ways to improve the process
Tendering is mainly based on the process in which the governments, as well as different financial institutions, invite bids for greater benefits but it is essential to be submitted within specified deadlines. It can be mentioned that Sara can make recommendations to overcome tendering or sourcing based issues through the help of appropriate financial findings. In this respect, the recommendations are as mentioned below-
Effective market analysis
The VP, as well as the operational department, needs to be conscious while scanning the targeted market range. It will help to find prominent business sources.
Applying most recent financial policies in business structure
It will be beneficial to foster the business with the help of genuine sourcing. Most recent financial policies may help the business authority to collaborate with most updated tenders as per market demands. It may help to increase profitability (Refer to appendix)
Eliminating fraud activities from the part of false tenders
The operational authority needs to be aware to eliminate false tenders along with critical identification of ineffective financial issues. Reducing the numbers of false tenders will be helpful to increase the value of stock turnover in a prominent manner (Gunduz and Karacan, 2017).
Frequent analysis of financial findings
Prominent efficiency needs to be maintained in financial activities by financial directors. Proper management of financial policies, borrowing and lending functions as well as paying a fixed amount of interests will help to maintain steady collaboration with tenders which may ultimately lead to reducing the geared value.
d) Shortcomings of inventory management
From the case study, it has been observed that the shortcomings of inventory management are prominent in Flysafe. Their supply chain is not strong, management of customers' requirements are weak as well as procurement functions are not managed well. In this respect, the shortcomings have been discussed under the following points-
e) Distinguishing between dependent and independent demands
In inventory management, dependent demand is based on procuring raw materials and components for manufacturing a specific product. On the other hand, the finished goods are considered as independent demands of customers. In this respect, the Flysafe can incorporate Batch tracking method because it may help to keep records of orders of dependent and independent demands separately. As described by Nemtajela and Mbohwa (2017), proper material resource planning is helpful for a company to manage customers' demands through effective inventory management.
f) Recommendations for inventory solutions
In order to manage inventory activities, the Flysafe needs to adopt the perpetual method of inventory management rather than a periodic method. The perpetual method is totally based on automated digitized process whereas the periodic method includes manual handling. Hence, it becomes prominent that depending on the digital software-based process will be advantageous for reducing errors and any kind of delay in the inventory management process. VP can consider the process of developing suppliers' relationship for managing inventory functions by eliminating fraud activities.
g) Push and pull system along with its integration in the inventory management system
Push process in inventory management denotes that the supply chain is predictive and develops on assumptions. On the other hand, push process denotes that the supply chain is reactive and helps to determine actual demand of a particular product (Fleet Inc., 2020). It can be mentioned that the authority of Flysafe can integrate the push process in their inventory structure which can be helpful for achieving the maximum amount of product by spending the minimum budget for procuring raw materials.
Conclusion
Thus, it can be concluded that the management of Flysafe can be able to overcome their supply chain issues with the help of development of business efficiency and managing coordination among all types of supply chain activities. From the case scenario, it becomes clear that the Flycafe airline is facing critical troubles based on developing rate of customers' dissatisfaction and the inability of supply chain management to meet operational requirements' this is also affecting their financial performance level in a negative manner. As a result of this, the Vice President, Sara has decided to bring prominent changes in the business process. In this respect, different supply chain issues are considered to mitigate the impacts depending on logistics and supply chain network.
Customer Testimonials
Keeping up with college work and assignment dues were impossible! After using the assignment services provided by My Assignment Help, things just got a whole lot easier. Their efficiency in completing my assignments were simply incredible! I recommend this service to anybody facing hardships in finding time to complete their assignments.

Alan, Sydney
In my first year, I was given a ton of paper composing assignments and it got extremely disappointing past a point, as I couldn't concentrate on my additional curricular. This typically influenced me to submit content with less effort and freshness which made me low grades in the end. I became acquainted with about their exposition composing plan and thought that it was practical and from that point forward I've been acing my assignments on Balance Sheet Reconciliations, Thanks to the group.

Ben, Sydney
My finals were nearing and I was very worried as I am somebody with low confidence issues and I needed some proper guidance in terms of internal Assignment and this is exactly when I came across this service aiding website and it helped me tremendously. I felt positive and told them the requirements for my assignment on analyzing Graphs and GDP of two nations and they made it very easy for me to concentrate in m exams and I scored really well. All credits to you guys.

Aaron, New South Wales